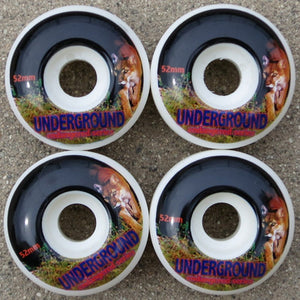 Underground Wheel Co.
Endangered Species Series - Florida Panther 52mm
Regular price
$ 31.00
$ 0.00
Endangered Series Florida Panther 52mm
Our Endangered 52mm wheels are 101 A and made in the U.S.A from the finest white urethane. Each wheel in the series features an endangered animal and supports a donation to a non-profit organization that works to protect the environment. We are smart enough to know that consumption of our natural resources is damaging our environment. These wheels are action to support needed protection for the natural environment. You can help protect the environment while you skate. Endangered 52mm features the Florida panther and every sale helps fund a donation to the NRDC. To find out more info about them please check out their website at NRDC.org. Like all our wheels, Endangered Species are made in the USA from the finest urethane. Wheels made in the USA have a smaller carbon footprint and generate less waste than those made overseas. 

Ride great wheels and help protect the planet with the Endangered Series 52mm.
---
More from this collection